350g Simple Truth Muesli
Hot
Updated
February 21, 2022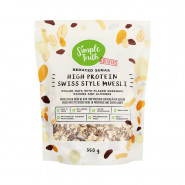 Brand: Simple Truth
Price: R39,99
Toasted oats, sorghum, and seeds with cranberries, goji berries, and blueberries. Reduced sugar and gluten free. Available in Mixed Berries, Fruit and Nut, High Protein Tropical, and High Protein Swiss-Style flavours.
User reviews
Finally! Just what I've been looking for!
I am in love with this product. I've been on the search for a gluten free free cereal option for a while now, and was starting to lose hope. Most available products are highly priced and don't taste as good as the tradition cereals. When I found this product and saw gluten free PLUS reduced sugar at such an affordable price, I snatched it up straight away. I didn't have high expectations for flavour, especially given that I wouldn't be adding milk, so I was pleasantly surprised when I tried it. I offered some to my husband, and he is obsessed. I'll definitely be adding it my regular shopping list.
High protein Swiss style muesli
What a beautiful way to start my mornings with the high protein swiss style Muesli very quick breakfast and keeps my mornings at work to be very productive, I couldn't recommend any other best cereal
Delicious Gluten Free Snacks
When you've never had to look at what contains gluten and you've never worried about whether your favourite snack is gluten free, you kind of fall over backwards when you have to start cutting all non gluten snacks out!
But thank heavens for this muesli!
It's become an almost everyday breakfast and snack with yoghurt!
So delicious and gluten free! Absolutely no worries!

Personal favourites are high protein tropical and high protein Swiss style! I've tried all the flavours