350g Jungle Crunchalots Fillows Strawberry
350g Jungle Crunchalots Fillows Strawberry
Hot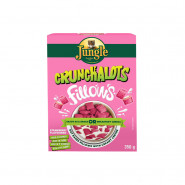 Brand: Jungle Crunchalots Fillows
Introducing Jungle's latest cereal, Crunchalots Fillows. It's a breakfast option and a snack option made with the goodness of Jungle. It features a crunchy outside and a smooth on the inside and, most importantly, promises to be both delicious and nutritious:
✅ Three delicious flavours: Original, Strawberry, and Chocolate
✅ High in energy
✅ High in 7 vitamins
✅ Source of Vitamin B5 to fight tiredness and fatigue
✅ Source of Vitamins A, B12, and C for immune system support 
User reviews
Super yum for breakfast and as a snack. Was an absolute fav with my fussy toddler
My baby girl can't go to school without this flavour,, and I also like it very much since I'm a strawberry 🍓 lover
I don't really like strawberry flavoured things because it usually always tastes very artificial, but Jungle really changed that for me. The strawberry flavour is a bit sweeter than all the other flavours for me, but it still is super delicious. The strawberry flavoured, crunchy pillows and creamy yoghurt centre are such a delicious combination. Personally, I definitely prefer this flavour in milk to mellow out the sweetness but it's still a 10/10 for me, delivering on flavour, crunchiness, convenience, and ensuring that I am sustained for the morning until lunchtime.